Task Management App
---
Cubicl allows your team to manage tasks, projects and clients together. You can share files, track time, chat with your team and do many more things.
You can use all features together or you can choose only the ones you need. You increase your productivity by integrating all features in a single app. With Cubicl, you use your time for managing your business instead of managing different apps.
Task Management
You can assign tasks to your team members. It is easy to keep track of tasks thanks to customizable Kanban view. You will get notifications about task assignments, progress change, overdue tasks and comments on the tasks.
Start and due dates
Attach files
Time tracking
Recurring tasks
Get notifications
Sub-tasks
Set reminders
Post comments
Customize Kanban
And many more...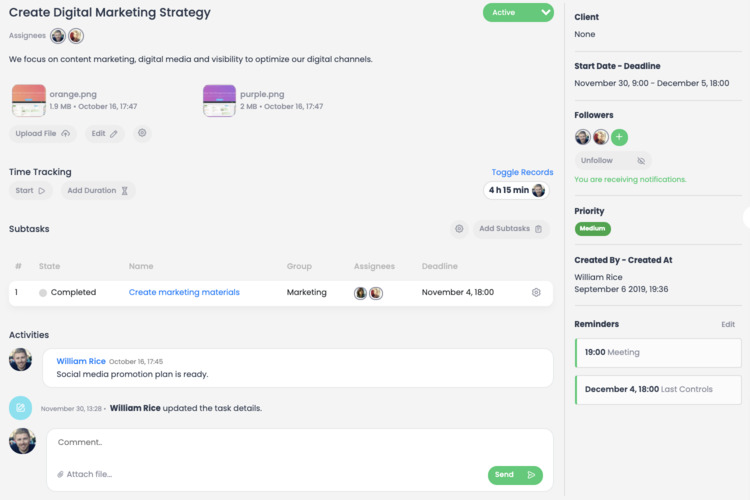 Project Management
You can plan your projects and get reports and statistics about tasks completed, time spent on tasks and team member performances. You can prepare Gantt Charts and visualize your teams plan on Time Chart page.
Interactive Gantt Charts
Task reports
Task relations
Statistics
Time Chart for your team's workload
Time tracking reports
Integrated with tasks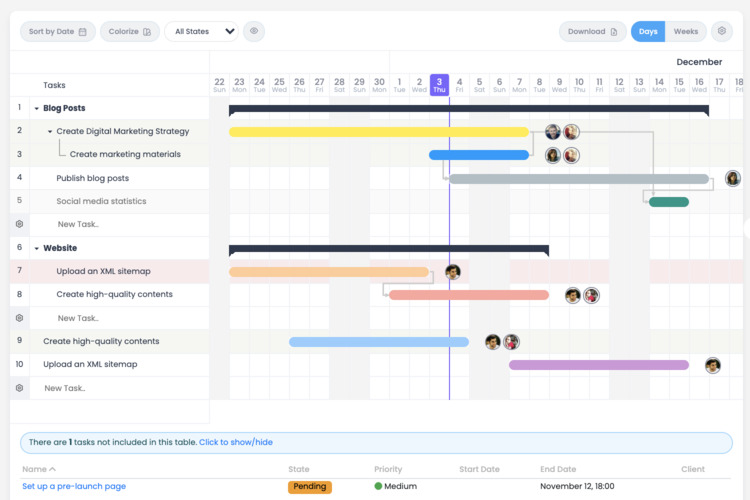 Team Collaboration
Your team can collaborate by sharing files, sending messages in personal or group chat, writing comments on tasks. Information is shared easily and can be reached later.
Personal chat
Group chat
File sharing
Create projects
Comment on tasks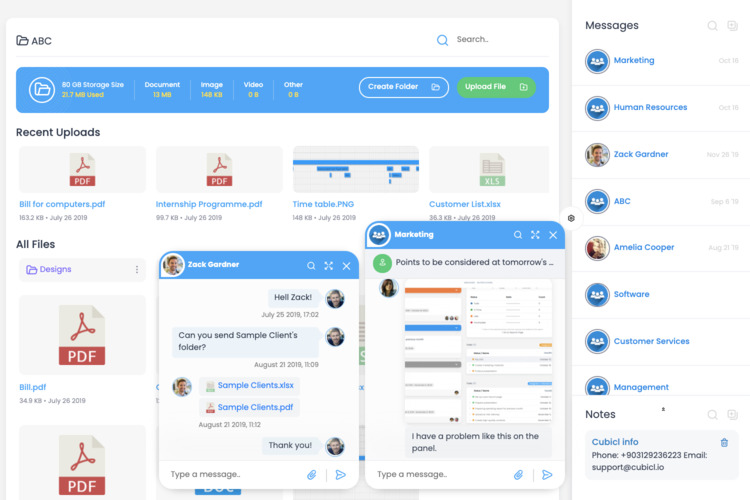 CRM
You can manage your relations with your clients in Cubicl. Create clients, keep track of projects, tasks and deals related to your clients. Use our ticket system to collect support requests.
Create clients
Save contacts and take notes
Sales pipeline
Ticket system
Tag clients on tasks
View all activities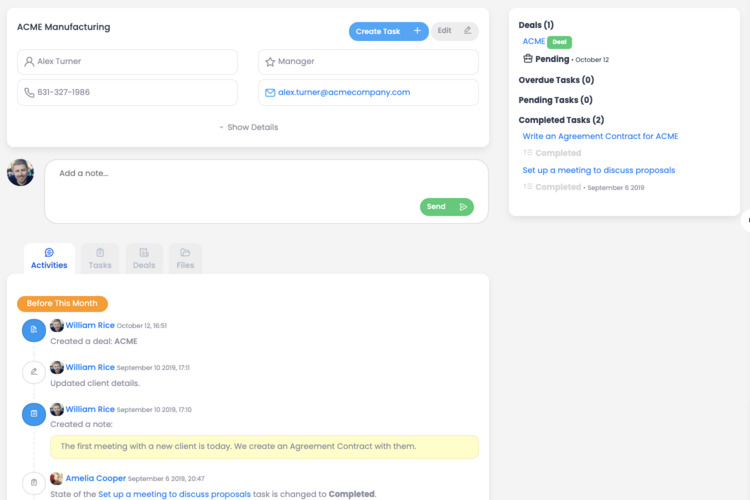 Client Portal
Provide a portal for your clients. Share projects, tasks and files with them. Let your clients get notified about any progress. Collect support requests and communicate with your clients with ticket system. Embed communication forms and client portal into your website.
Manage clients separately
Select the tasks they can see
Send and receive files
Notifications about progress
Embed communication and quote forms into your website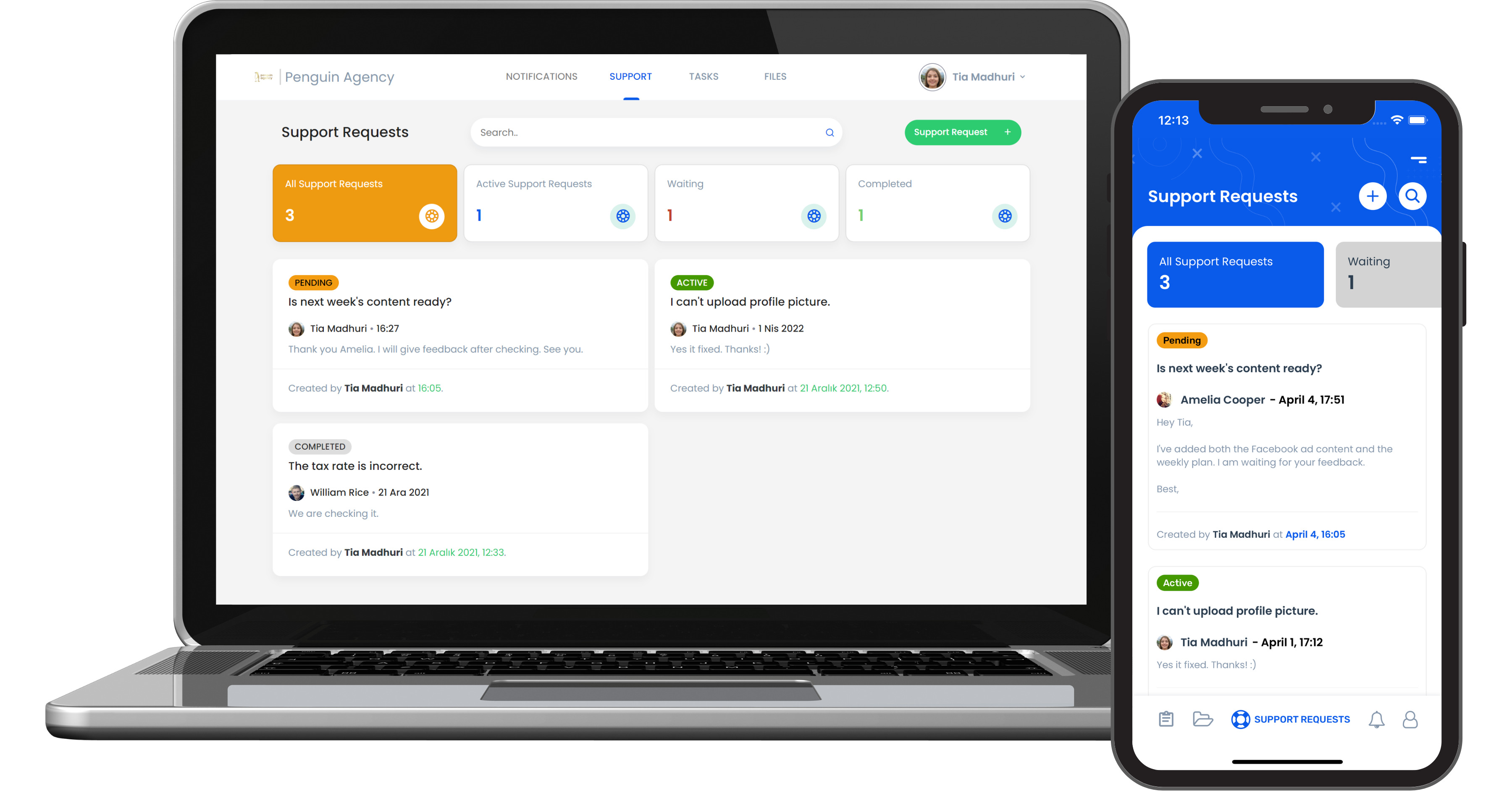 Email Integration
Turn your e-mails into tasks by connecting your e-mail boxes such as support@company.com to Cubicl. Automatically create calendar events from meeting and event mails. Integrate your Exchange Calendar with Cubicl to sync calendars between platforms.
Turn your emails into tasks
Add your invitation emails to the calendar
Exchange Server integration
Manage all your e-mails and tasks with a single platform
Quickly respond to your clients and affiliates
Track emails as a team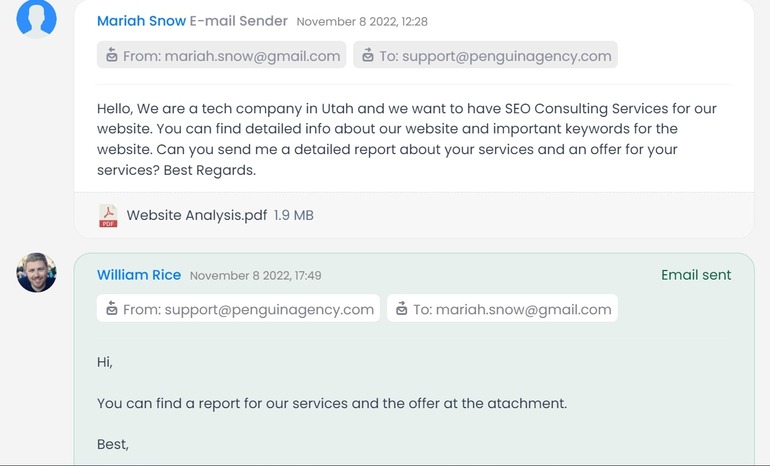 Bookkeeping
Bookkeeping allows you to keep records of receivables and payables. In this way, you can see who owes you, what is the due date of payments, which payments are late and how much you owe.
Receivables and payables
Outstanding, Overdue, Paid Receivables and Payables Summary
Adding all or partial payment
Activity record for transactions made
Bookkeeping for your customers on the Invoices page of Client Portal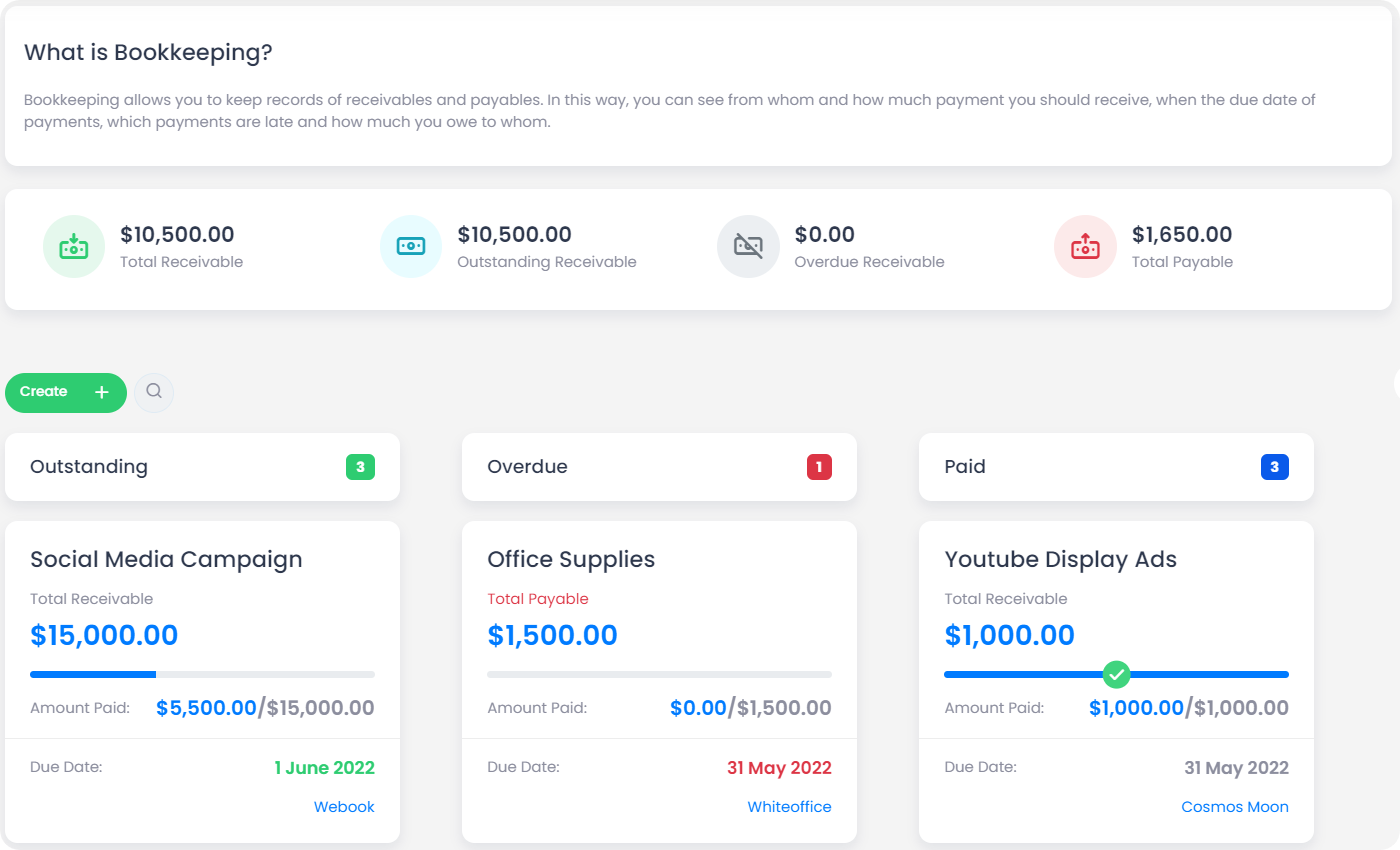 Features
---
Everything you need in one app and continuing to add more every month.
Task Management
Create and assign tasks to team members. You can add details such as start and due dates, sub-steps, description, progress bars and more. Get notified about activities instantly.
Reports
Get reports for completed and overdue tasks. See how much time your team spends on the tasks. Get statistics.
File Sharing
Upload your files and share them with your team in Files page. You can also attach files to tasks or send them over chat.
Gantt Chart
Let's you easily plan and manage your projects. See project schedule, assignees and task dependencies.
Time Tracking
Measures and reports how much time your team spends on assigned tasks. You can also see on which tasks your team is currently working.
Instant Notifications
You receive notifications on our web and mobile apps and never miss an important event.
Chat
You can talk to your team one-to-one or as a group without changing the page you are working on. You can share files.
Projects
Prevent complexity and organize work by creating separate projects for your teams, projects and company units. You can create sub-projects.
Calendar
View your entire schedule in your Personal Calendar. View your team's calendar in Project Calendar.
Email Notifications
You will be notified by email notifications when you are not online. You get activity, chat, reminder and overdue task notifications and can turn off any of them.
Notes
Keep your notes in Cubicl instead of constantly disappearing post-it notes. Search and quickly access your notes.
Recurring Tasks
Create your tasks and set them to repeat. New task copies will appear when time comes. Great for regular meetings and work.
Personal Tasks
You can keep track of your personal tasks. Until you share them with other members, they are only visible to you.
Help Desk
Receive and reply support requests (tickets) submitted by your clients. Assign them to your team and manage client relations easily.
Clients
You can save clients and quickly access their details. You can keep track of the tasks created for your clients.
Deals
Lets you manage your sales pipeline easily. You can work on deals with your team and customize the sales stages.
Different Views
You can view your tasks in Kanban, List and Calendar views. You can put your tasks in Gantt Chart to create a plan. You can use Time Chart to view your team's entire workload.
Subtasks
Divide a task into smaller subtasks to separate everyone's work and manage them easily.
Permissions
You can set user permissions on each project separately for tasks, files, reports etc.
Private Tasks and Projects
You can create tasks which are only visible to assignees and projects which are only visible to members.
Current Tasks
Lets you see on which tasks your team members are currently working.
Task Steps
Create checklists (steps) on tasks to manage and view task progress.
Workflows
There is no need to create sub-tasks under a task that has several stages or check sub-tasks are completed or not. Workflow feature makes it for you.
Exports
You can export a task/tasks in a project with the detail.
Time Offs
You can add time off both on an organization basis and on a member basis. Time off will also show on the Gantt, Timeline, and Calendar, so, you can adjust days of tasks.
Forms
Create information forms or conduct internal surveys with Forms.
Email Integration
Connect personal or business mail addresses such as support@mycompany.com to create tasks from incoming mails, work together on them with your team and reply them on Cubicl.
Calendar Events from Mails
Connect your personal or business mail addresses to automatically create tasks from meeting and event mails containing calendar attachments or video conferencing app links.
Exchange Server Integration
With Exchange Server integration, you can sync your Exchange Server calendar to Cubicl and follow them as tasks. Or share Cubicl tasks to the Exchange calendar.
Bookkeeping
Keep track of your receivables and payables. Record the due date of payments and the amount has been paid. From the Client Portal, your clients can check the receivables and payables.
Download Cubicl Introductory Slides
---
In the "Cubicl 101: Everything You Need" presentation, discover all the features in Cubicl within 10 minutes! In the "Cubicl 201: Explore Cubicl's Full Potential" presentation, examine Cubicl on flexibility, simplicity, privacy, automation, and practicality.
Integrations
---
You can connect your Google Calendar, Google Drive, Dropbox and Slack apps to Cubicl.
Google Calendar
Import your calendar into Cubicl as tasks. Sync the tasks in Cubicl to Google Calendar.
Google Drive
Attach files to tasks directly from your Google Drive account.
Gmail
Mails from your clients are created as tasks. You can reply directly in Cubicl.
Microsoft E-mail
Mails to Microsoft based mail addresses are created as tasks. You can reply directly in Cubicl.
Dropbox
Attach files to tasks directly from your Dropbox account.
Slack
Get important notifications in your Slack channel and never miss a thing again. Learn more
Cubicl API
Connect your software to Cubicl through our API. Automate your work.
Webhook
Integrate Cubicl with other applications with webhooks.
Mobile Apps
You can use our Android and iOS apps and get mobile notifications.
You can upload files by taking photos. You can create clients from your contacts. You can call, sms and email your clients.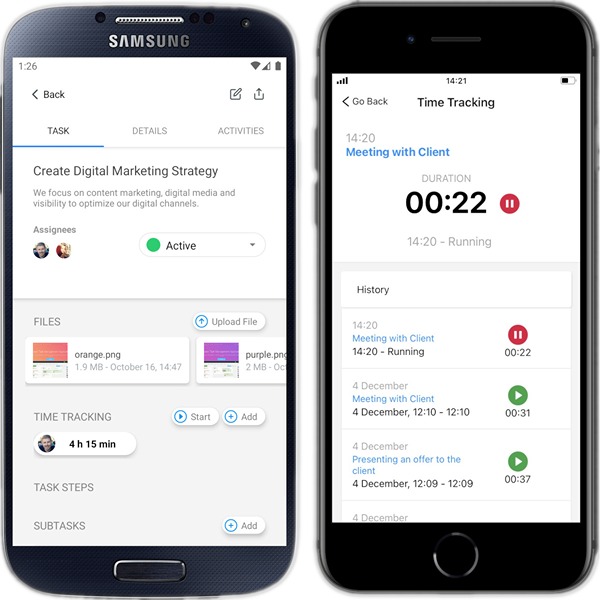 I have tried multiple different task management platforms over the years, but ended up not sticking with them. The most common issue I had was there was just too much going on in the UI that it became overwhelming. Cubicl solves this for me by keeping everything simple, but still packed with needed features. Overall a really great tool and I'm so happy I jumped on this deal!

I am really enjoying Cubicl for project management and collaboration with my team. I found it to be user-friendly and intuitive, which made learning it easier. The product tour was helpful in getting me up to speed on how to use the various task management tools. My favorite feature is custom notifications that keep everyone in the loop, particularly being able to streamline emails into tasks.

I have a small law firm and I have remote assistants. This tool works well in tracking tasks and comes with the added bonus of a client portal. They have said it is easy to use and that is really all I wanted. So far, very good.

I have been using Cubicl for some time now and among alternatives Cubicl suits my company best as a project management app. The support is amazing, quick & efficient. The Interface is really User firendly; easy to setup (compared to alternatives) & teams can quickly grab how to use efficiently. Collaboration is easy, and enhanced via chatboxes and project based Comments/File sharings etc. Mobile app is efficient, frequently used by my team working out of the office.

Love this App! A great project management app. Unique and very useful compared to alternative apps. Definitely recommend to everyone.

So glad I switched! I was not in the market for a new project management system but this popped up in a group I am in, and I was curious (always am!), and I checked it out. Something told me I wanted to try it. I am so glad I listened to my gut. I am already in love. It's FAR more intuitive than the others.

Though I use a couple of other client and project management platforms, Cubicl stands out for its friendly user interface and email communications feature. The web design clients I've worked with mostly wanted to communicate via email instead of a client portal. Cubicl turns client-initiated emails into tasks and creates an email conversation for each new task. I look forward to using this feature with a client to see if it helps reduce the need to search for emails and manually create tasks.

Loving it so far! Ah, I just wrote a really long review, then lost it (don't ask), so here's the short version...Things I like:
Visually uncluttered and easier to navigate than other.
Task views, files, at the client and project level
Client portal on a subdomain - and support/update requests go straight into tasks
Drive, Calendar, and Slack integrations
Comments, Subtasks, and Steps at the Task level
Kanban view
Comprehensive documentation
A support portal that demos the product :-)

It does, what exactly is means for perfectly. Project management is pretty simple and easy. Amazing and simple UI and UX. Blazing support. Speedy development on upgradations.

Amazing tool, great support and dedication. I have the pleasure to have the Erkan help with the setup of my project and it was amazing! The tool has a lot of features and the support is awesome!

Cubicl is a great all-in-one solution. Was looking for a project management software for a few months now. After testing Cubicl for the past week, I bought 3 tiers and will probably buy another 2 for my other business. The main reason I chose Cubicl is that it is a comprehensive solution. In my business, I am using a few tools and this is the only PM tool I found that has tasks, deals, projects, chat, clients AND a client portal. Other ones offer some of these features but none of the tools I looked at (some are crazy expensive) offer all of them as Cubicl does.

Some special and unique features... Like the app, and shifted from others to this one. It is headed the right direction and finally an app which knows what the calendar view and integration means to users. I highly recommend Cubicl.

Intuitive Easy To Use Productivity & Project/Tasks Management Solution. Cubicl is a fantastic tool. It has all of the power you'd expect from a project-/productivity management tool and is simple to use even for those with no or limited experience with these tools. Cubicl is suitable for both one-person freelancers and small to medium-sized businesses. It is thoughtfully designed and has unique features such as bookkeeping (more of an income and expense ledger than a full-fledged bookkeeping system, yet), integration that works well, a client portal, and more.

Excellent. It is super nice. I love this program ...very helpful..I would just like different colours, I mean the design with other colors...

Task and Ticket and Portal engine! Let me first say that I am just getting my feet wet, but the experience thus far has me very excited for what this team is up to... and have you seen the roadmap yet? The support team via chat is up to now busy but very effective - they are quick to respond and very knowledgeable. They use screen grabs to help you find things and even helped me setup forms in a basic test which even suggested best practices on how to embed the portal or make a link/button instead.

Absolutely loved it. I tried much software, the features offered by Cubicl are unmatched, integrations its offering, API support, webhooks, guided tours, nice documentation and help guides. Simply amazing software. Thank you for offering such a nice deal.

Pretty Decent! Well Organized Hierarchy and UI. Overall, Cubicl did a great job, and it's one of the better CRM/PM tools I've tested in a while. Again, while it didn't work out for my extremely niche use-case, I think a lot of people will love this LTD!

I found this software to be very good for managing a lot of tasks, the main difference between it and the others software is the possibility to divide the project into tasks and sub-tasks.
The big project = for example building a website for a client
The big task to perform = for example to collect materials from the client
What does the big task include = for example images or content
What does the subtask include = for example photos would be: image photos, atmosphere photos, etc

Easy for work & home. Looked over several task management software for a team I work with. Cubicl was the easiest for other to use. Bought a work license and had everyone in my family by a license for their home office endeavors.

Productive since day one. I am a project manager who sets the bar high when it comes to project management software,. I simply do not have time for trials when projects are already complex to manage. So far, I like Cubicl, and managing the myriad project tasks feel intuitive.
What I like:
Great UI
Killer email to task feature. No more digging in threads for customers who like to email
Strong customization
Logical flow. Creates less friction doing work
Calendar

We use Cubicl in multiple areas such as task & project management and internal communication. Cubicl makes it convenient for us especially by allowing us to manage our tasks and track them from both mobile and web applications. In this way, detailed information required for reporting is kept chronologically on Cubicl and serves as an agenda for the past.

Mehmet Onur YAMAN
Senior Material Purchasing Specialist
Cubicl solves our communication problems and prevents communication accidents. It not only facilitates our work in planning but also enables us to follow up and communicate independently of the place. In this way, everyone in the team can contribute the projects or tasks from anywhere via internet access. Central monitoring and transparency are made more comfortable by Cubicl.

Süleyman Cihan Bozkuş
Strategic Analysis & Retail Training Manager
We prefer Cubicl to serve our need for reporting and regular follow-up of the works during our operations. Monitoring and reporting of works in our established facilities in different locations in Turkey are being done effectively via Cubicl. Cubicl provided us with fast and easy reporting.

Sefa ZENGİN
Borusan EnBW Energy
We use Cubicl to make the planning and tracking our business processes faster and more organized. It became our number one choice due to its easy user interface, numerous features for different fields and specialized solutions it offers for our specific needs. It saves us time by facilitating the management of tasks we carry out with our many employees in different fields.

We were trying the manage our work with emails and Excel files before Cubicl. Now we are managing all of our work from a single place without hassle.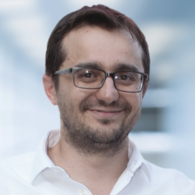 Çağrı Yüzbaşıoğlu
ISSD Electronics
Cubicl contributes to increasing our productivity in addition to improving our work flow.

Arthubo
Kitchen, Bathroom, Living Unit Design
We have started managing our projects easily after trying Cubicl. Now, we use it in all our projects.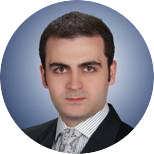 Atilla Kahraman
DSPRO Digital Signal Processing
Frequently Asked Questions
---
Got a question? We've got answers. If you have some other questions, contact us.
Is my data safe?
Absolutely! We store all your information in secure servers and backup our database daily. All our traffic is served over SSL. Our application is penetration tested by a cyber security company to increase data security.
How can I get support?
You can use the live chat in our website or send us an email.
Can I add more users?
Of course! You can add new users any time. You will only by charged for the days they were in your organization account.
Can I change my plan?
Yes. Contact us to upgrade or downgrade your plan.
Try and see Cubicl yourself.
Plans
---
You get 20% discount when you pay annually.
Click options below to see monthly and annual pricing.
Hover over or touch on the features to read their descriptions.
* If you have 25 or more users, you will get additional discount. To take advantage of the additional discount, you can contact us at support@cubicl.io
Our Roadmap
---
We keep adding new features to our app! Please send a feature request if you have one. We update our roadmap multiple times a month.
You can check our changelog for past updates.
Automatic Scheduling
As using artificial intelligence you can create optimal schedules for assignees. It helps eliminate guesswork and frustration while limiting the potential for human error.
Virtual Assistant
AI virtual assistant helps you to find tasks, chats and reports in Cubicl based on your commands or questions. It helps you to take action quickly.
Automation
No-code automation uses a drag-and-drop method to create automated workflows and processes without writing a single line of code.
View Roadmap